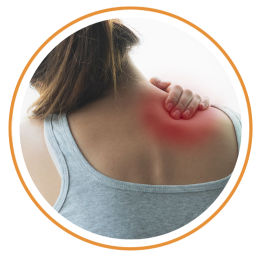 Sessions examine and address pain in a number of ways. Each client receives a custom tailored approach to help them achieve their unique goals. We will consider what factors may be causing the pain symptoms and what interventions will be most effective to relieve them.
Structural Integration brings the body into alignment, reducing pain caused by musculoskeletal imbalances.

Infrared laser reduces pain

Client education empowers clients by helping them to understand how everyday activities like thinking and moving increase or decrease pain.

Neural manipulation opens the tissues inhibiting nerve pathways, restoring glide and mobility and reducing nerve pain.
...I was in chronic pain for 2 years with radiating stabbing pain that originated in my mid back. Through Trevor's intuitive touch I can say with a heart full of love and gratitude that he has healed me and in his words, I healed myself...
MORE TESTIMONIALS

...I no longer have any shoulder problems, which had been bothering me for 3 years before I saw you...

IRENE NAKAOKA

...I have had a pain in my shoulder that radiates down my arm. I couldn't raise it a certain way and reach for Something without it hurting. I went to a physical therapist and it helped a little. After one session, my arm stopped hurting!

CYNTHIA STARK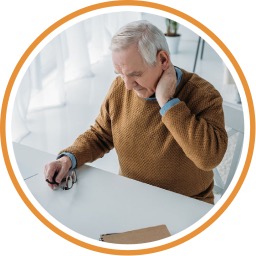 Chronic tension is a symptom of imbalance in the body. Usually tension is felt at a location that is having difficulty adapting to imbalances elsewhere in the body. Sessions combine interventions to give relief to symptoms while also identifying and releasing these areas of imbalance. Going beyond addressing the symptoms and balancing the whole body helps to provide long lasting results.
Structural Integration is used to balance the musculoskeletal relationships around the joints, reducing imbalances like chronic muscle hypertonus or chronic tension that cause discomfort.

Red laser is used to promote balanced muscle tone, helping to balance tension.

Movement education breaks old patterns that contribute to tension and replaces them with new more supportive patterns, putting ownership of the solution into the hands of the client.
...Within two sessions he was able to help me solve the problem that was creating tremendous tension in my neck and shoulders when I worked...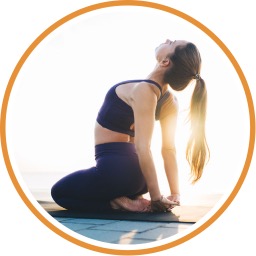 Joints are controlled by muscles, so healthy mobility requires the muscles that control a joint to work together to take the joint through its natural range of motion. Muscles that don't engage or disengage properly will take a joint out of balance. This may reduce range of motion and lead to other problems like inflammation and accelerated wear on the joint.
Structural Integration balances the myofascial tension controlling joints, allowing aligned movement throughout the joints normal range of motion.

Red laser reduces inflammation, promoting healthy mobility.

Movement education improves proprioception so the brain has better information about where the body is in space, promoting normal mobility by helping muscles to engage when they need to engage and release when they need to release.
I walked out of his office with more range of motion than I could have imagined...
MORE TESTIMONIALS

I left this appointment with greater mobility on my neck and shoulders and significantly less pain...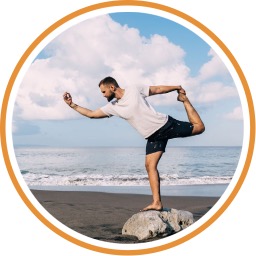 As posture and mobility improve, most clients experience a feeling of being lighter. At the same time, they find stronger support from the ground. Their feet make better contact and they perceive their feet and legs to provide a more secure base. As a result, they experience greater stability while sitting, standing, and walking.
Structural Integration brings the whole body into alignment, improving support and mobility.

Movement education helps to identify old movement patterns that are no longer helpful and replace them with new more supportive patterns, promoting ease and fluidity of movement.
I feel taller, I started having so much more ease with my body that I am walking faster, my balance is better.
MORE TESTIMONIALS

Trevor is an expert. His work dramatically improved my wellness and the way in which my body is able to find ease and stability. My body feels better than it has in a decade since having a spinal cord injury.

ERICA HEARTSONG

My body felt so light and better immediately.

SAEKO GINESTET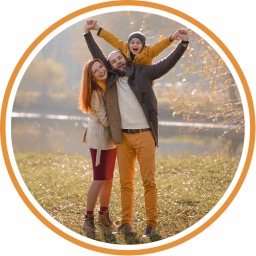 It's good to feel good. Having an aligned body can make everyday activities feel easier.
Structural Integration can help to process emotions that are stored in the body, releasing energy and reducing the negative effects of stress.

Movement education can bring awareness to outgrown patterns in the body while creating new possibilities for comfort and ease.
Working with him has transformed how I experience my body - so much more joy and ease!
MORE TESTIMONIALS

...I'm really much happier and pain free compared to a few years ago...

Structural Integration improves posture by balancing the tensional forces within the body, promoting optimal alignment and effortless upright posture.

Increase strength by allowing optimal nerve signalling and by restoring balance to joints so flexor and extensor muscles work together in harmony.

As the body is brought into balance, less energy is wasted fighting gravity, experienced as an increase in energy.

Manual therapy is used to integrate scar tissue. Red laser is used to normalize scar tissue.

Proprioceptive learning is promoted through manual therapy and movement education. Newly gained body perception helps clients to improve their movement patterns.

Physical activity is easier and more enjoyable when a body is balanced and working well. Increased range of motion, expanded body awareness, and more efficient movement pattens help clients to perform better in all aspects of their life.

Manual therapy is used to release tension and tissue adhesions that restrict breathing. Movement education is used to improve breathing.

Structural aging can be seen as a loss of perception. Promoting proprioception, mobility, and strength all contribute to a graceful aging experience.
"Trevor is an expert. His work dramatically improved my wellness and the way in which my body is able to find ease and stability."
Are you ready to feel better?